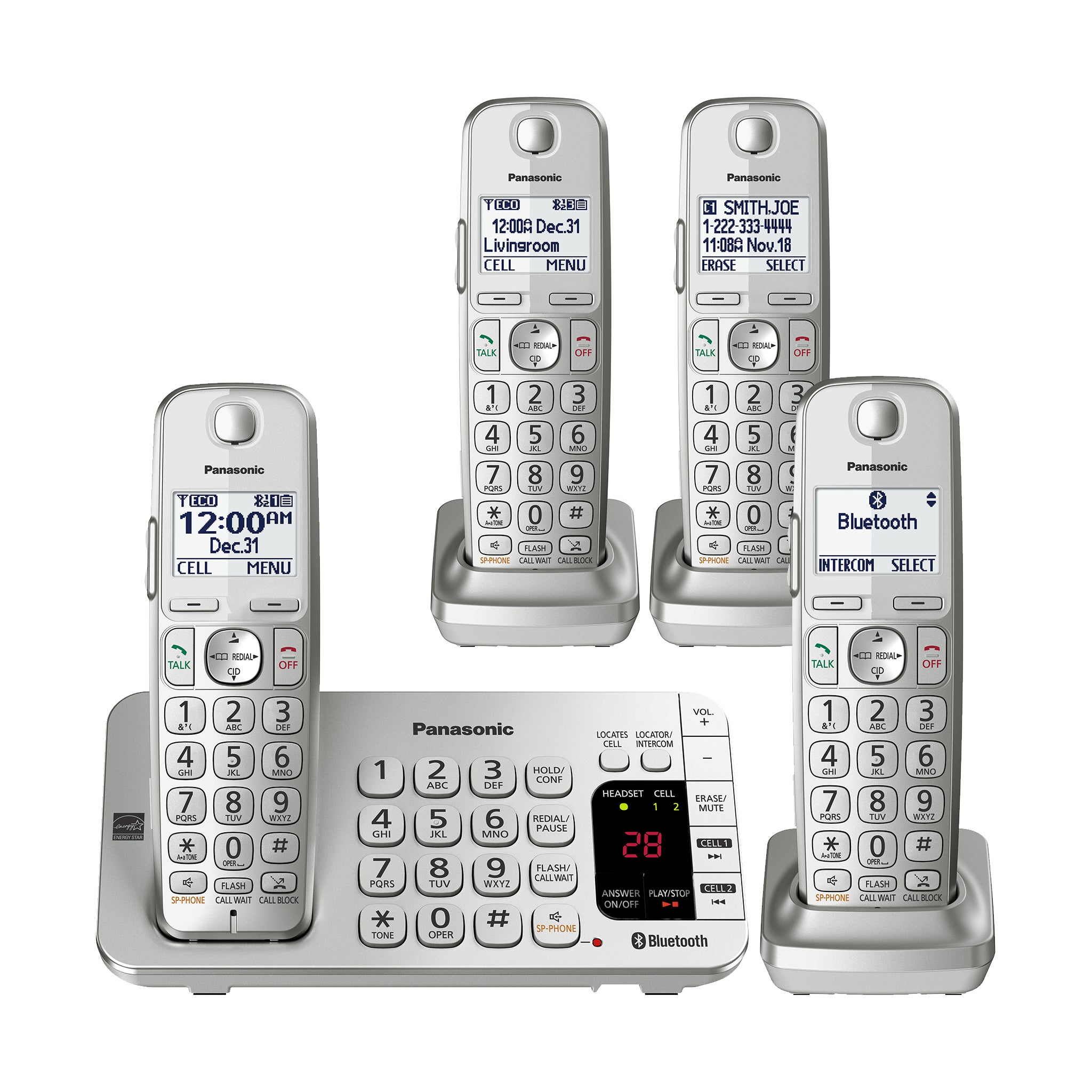 Link2Cell Cordless Phone- KX-TGE474
SKU: KX-TGE474S
The KX-TGE474S expandable Digital Enhanced Cordless Phone system with answering machine and 4 cordless handsets allows you to link up to two cell or smart phones and integrate them into the phone system via Bluetooth. Includes one cordless handset in the base unit and four additional cordless handsets, expandable up to six handsets (additional handsets sold separately).
Link up to two smartphones via Bluetooth to make and receive Cell/smartphone calls anywhere in the house with link2cell cordless handsets
When a call comes in through your Link2Cell Smartphone or cell, the cordless phone will announce the name or phone number using the text-to-speech function
Noise Reduction automatically suppresses background interference while enhancing voice tones for clearer conversation on the base unit & cordless handsets
With a charged cordless handset in the base unit, enjoy up to 12 hours of talk time when the power goes out, Intelligent Eco mode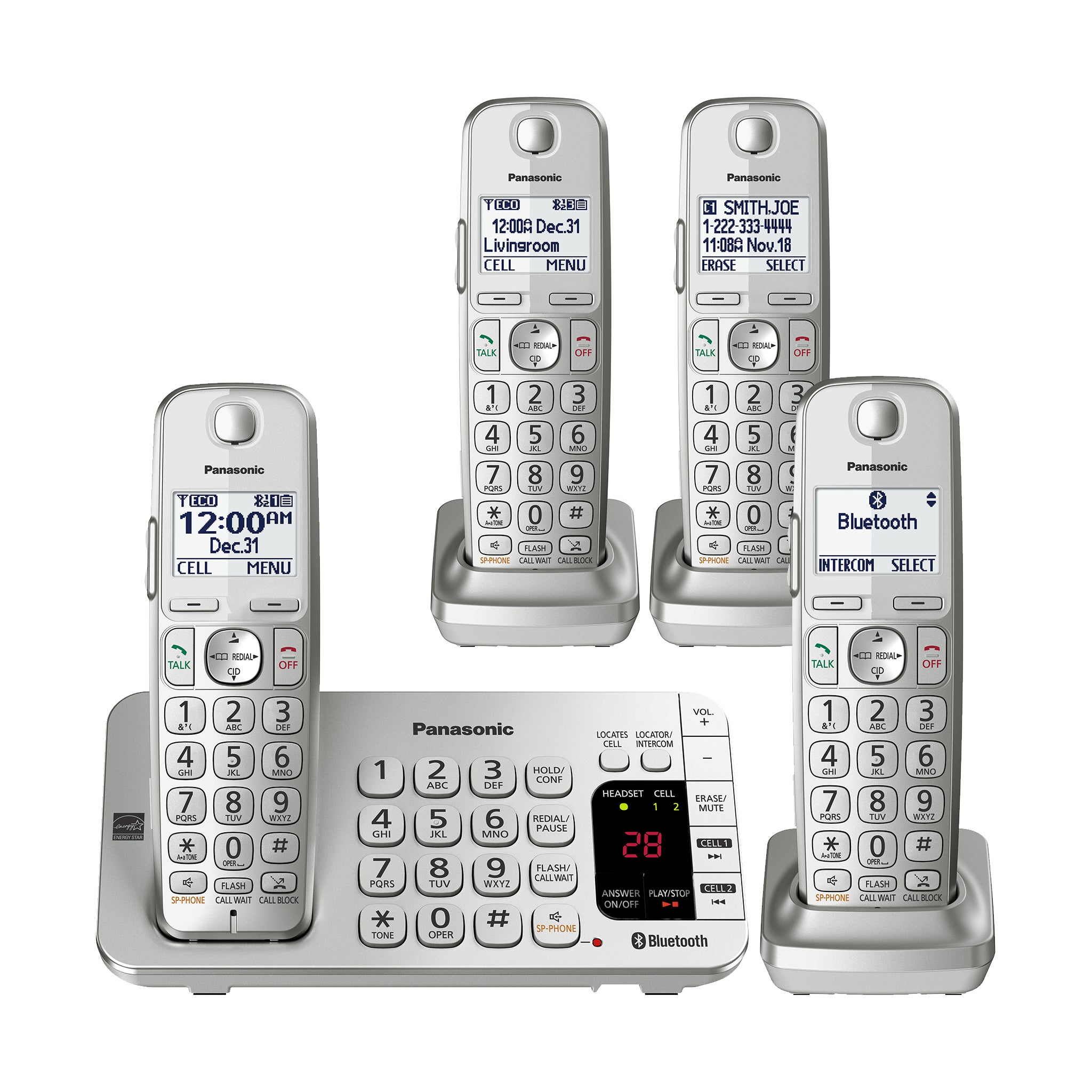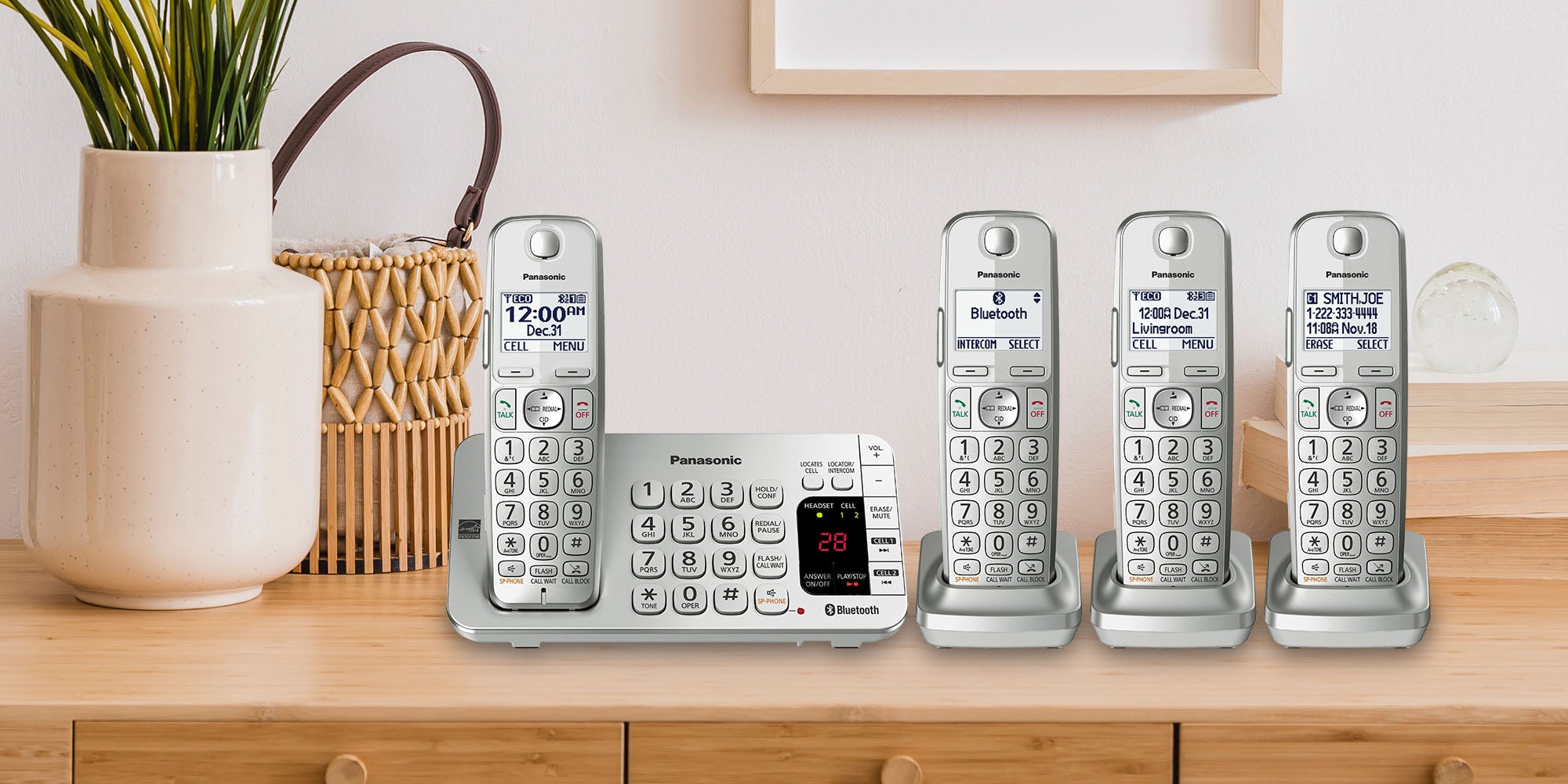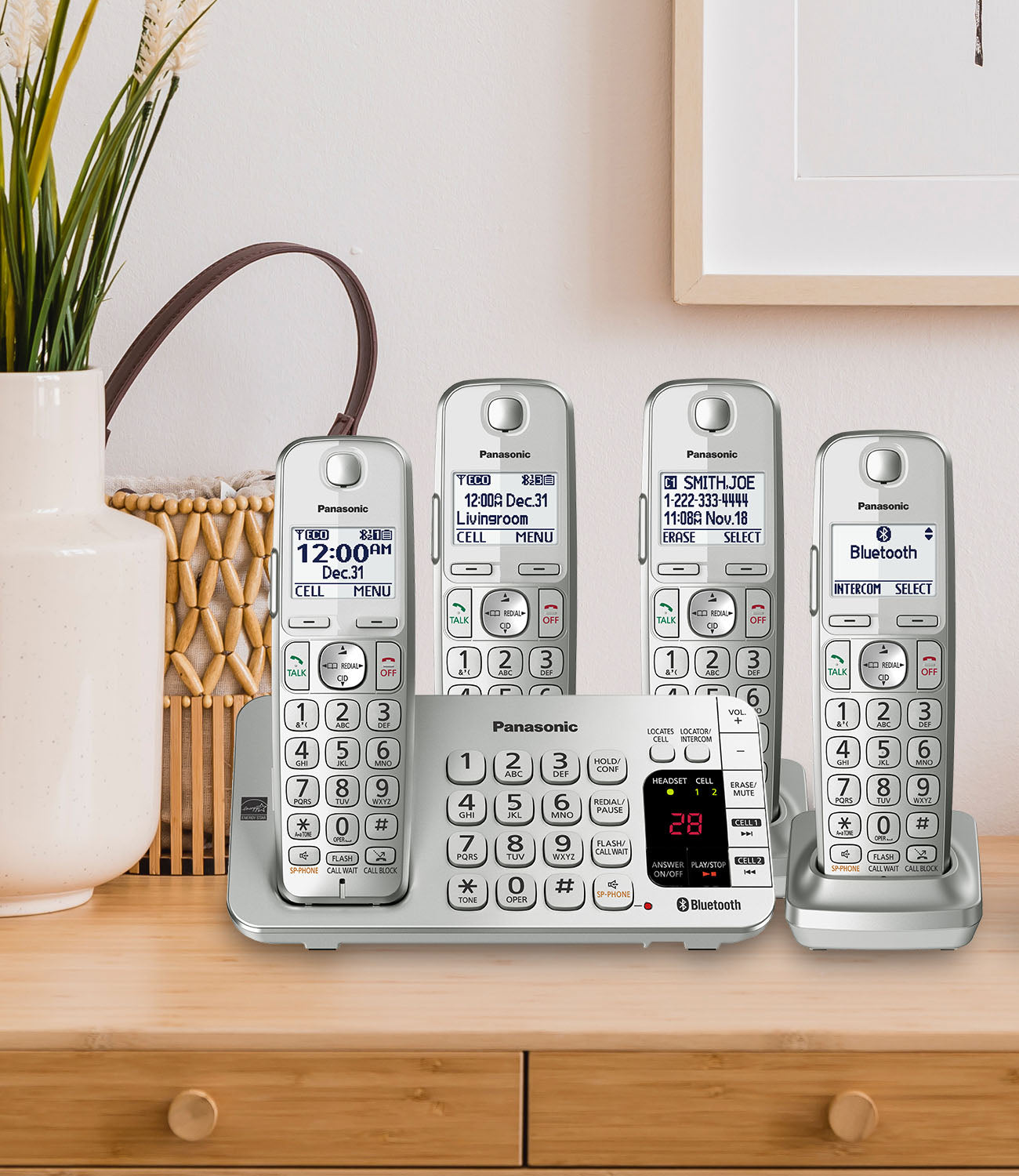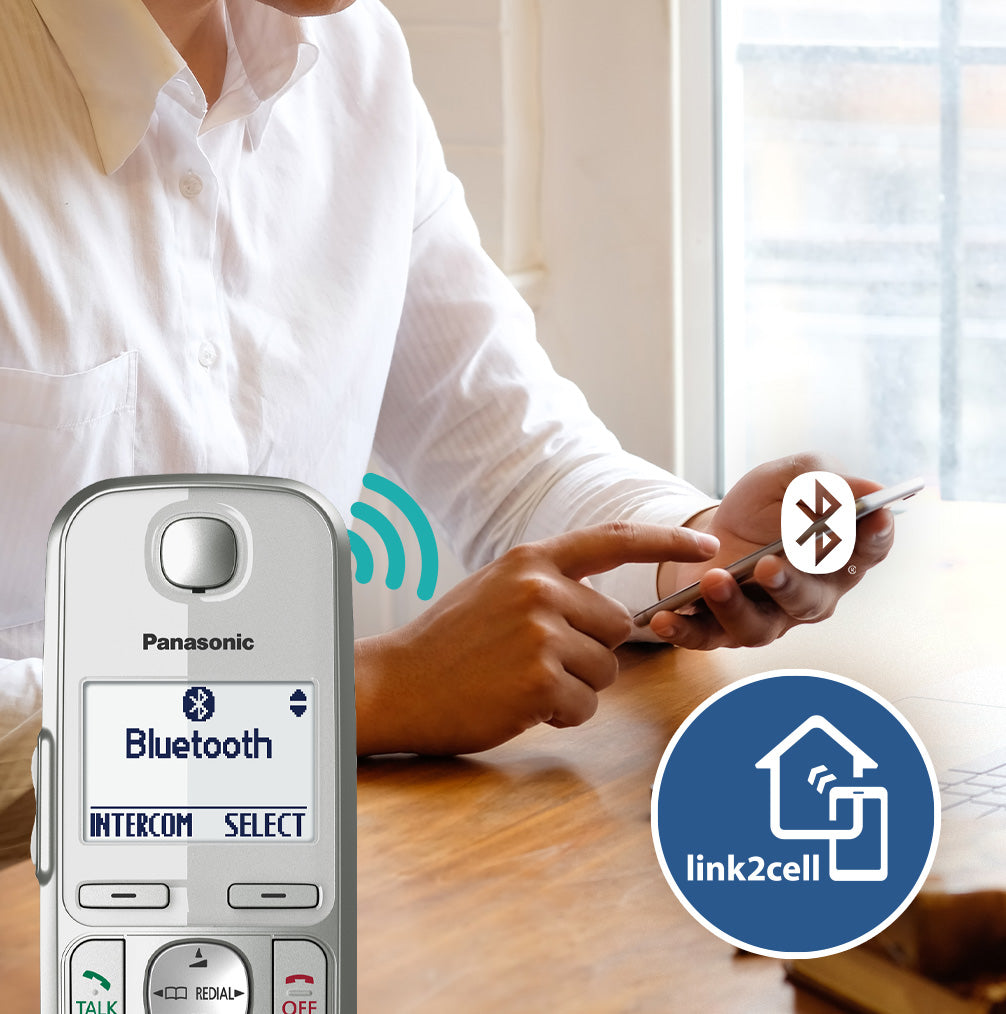 Make and Receive Cellphone Calls
With Link2Cell technology, you can pair up to 2 cell phones via Bluetooth with the base unit and use handsets to make and receive mobile calls. You'll get increased call clarity and reliability, avoiding cell dead zones in your home. The handsets alert you when your cell phone receives incoming calls and texts and allow you to make and receive mobile phone calls with landline clarity.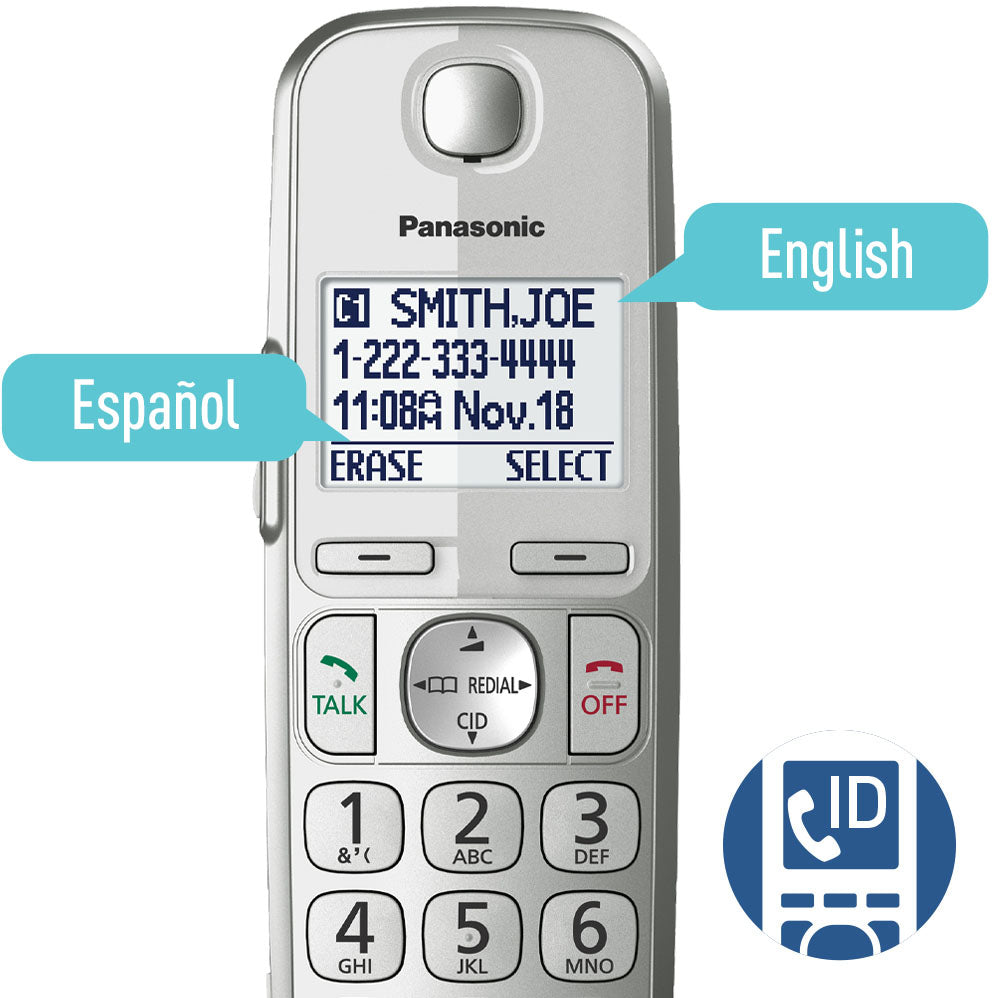 Bilingual Taking Caller ID
Caller ID displays in English or Spanish and announces caller information in the language you choose, so you never miss an important call.
Easily Block Unwanted Callers
Say good-bye to scam calls and telemarketers. A one-touch Call Block button lets you easily block nuisance callers. Store up to 250 unwanted caller numbers.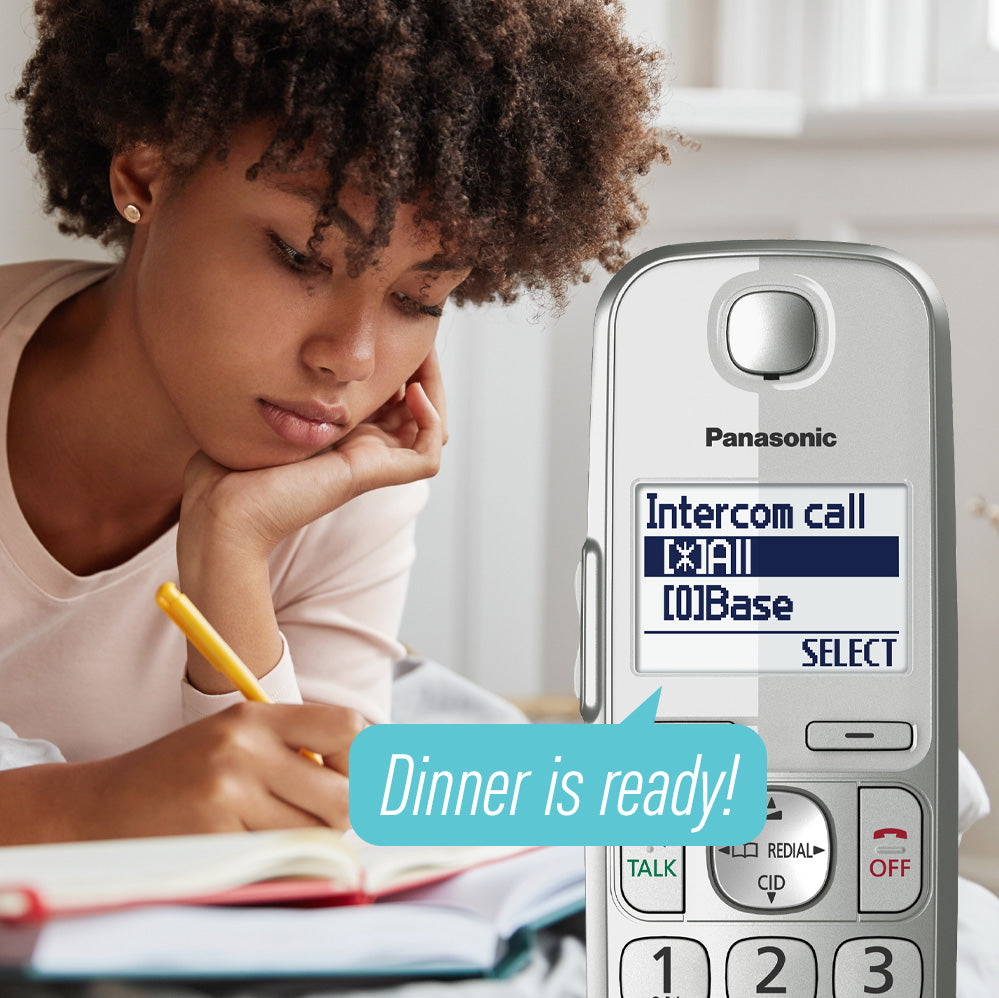 Beyond Intercom
Wake kids for school in the morning and let everyone know when dinner is ready in the evening with Panasonic Voice Paging. More than a traditional intercom, Voice Paging makes it easy to send clear, simultaneous announcements to every handset in the house, even when family members don't respond.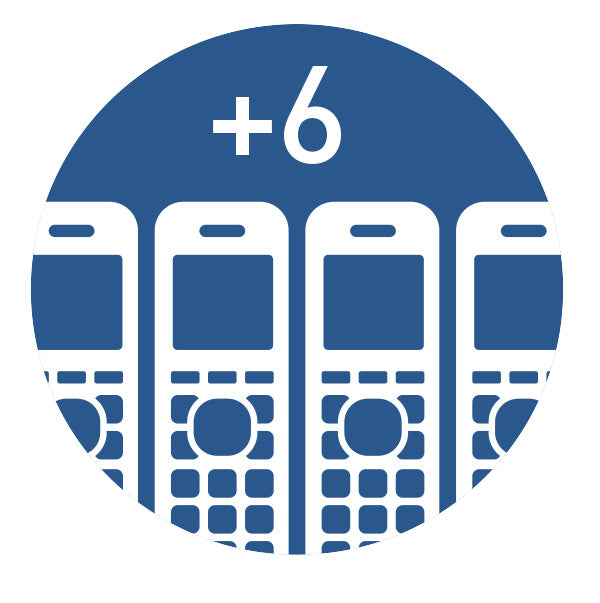 Expand Your System
Keep additional handsets virtually anywhere you need in your home, expanding your phone systemup to 6 cordless handsets(sold separately).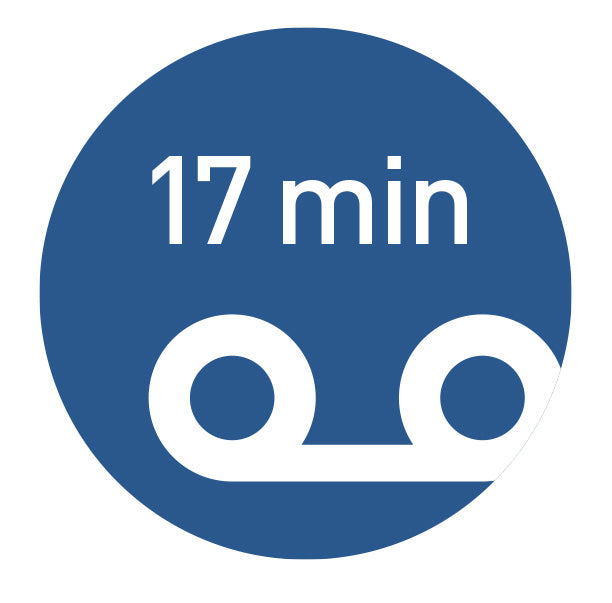 Digital Answering System
Records up to 17 minutes of messages, available at a glance from Quick-read Message Counter. Pick up messages from the base unit or cordless handset.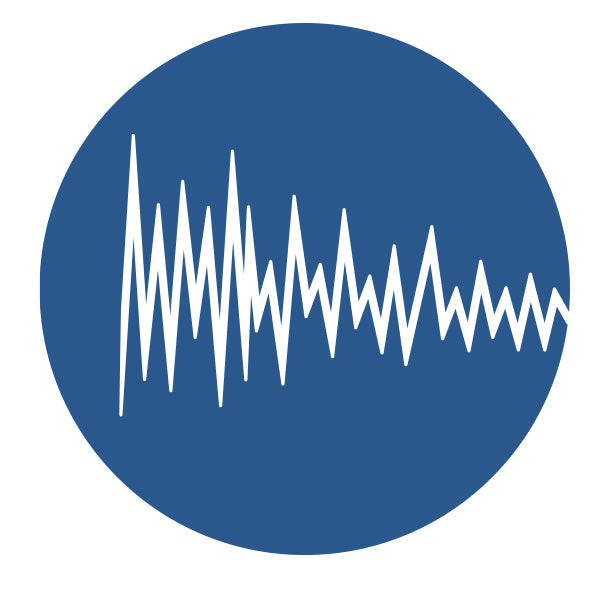 Noise Reduction
Reduce the background noise on the caller's end so you can hear the voice of the person you are talking to more clearly.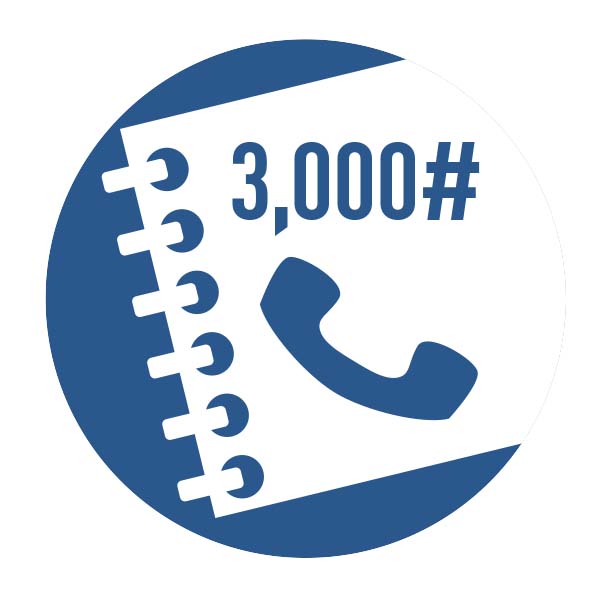 3000-Number Phone Book
Phonebook stores up to 3,000 important numbers. Caller ID displays up to 50 entries.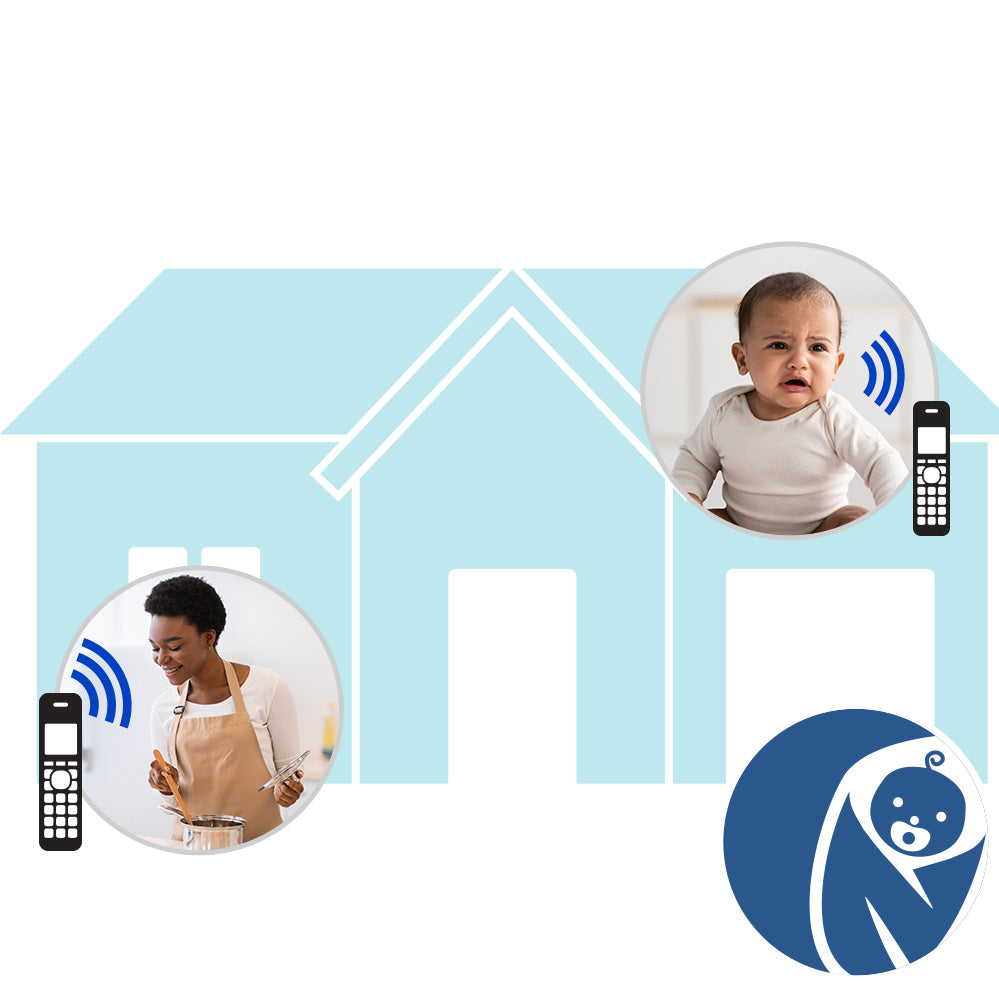 Speakerphone Doubles as a Baby Monitor
Place a cordless handset unit in baby's room to audibly monitor from different areas of the house or even while away from home! The monitored handset will automatically call the monitoring handset, base unit, or a stored phone number when it detects sound. *Additional handset required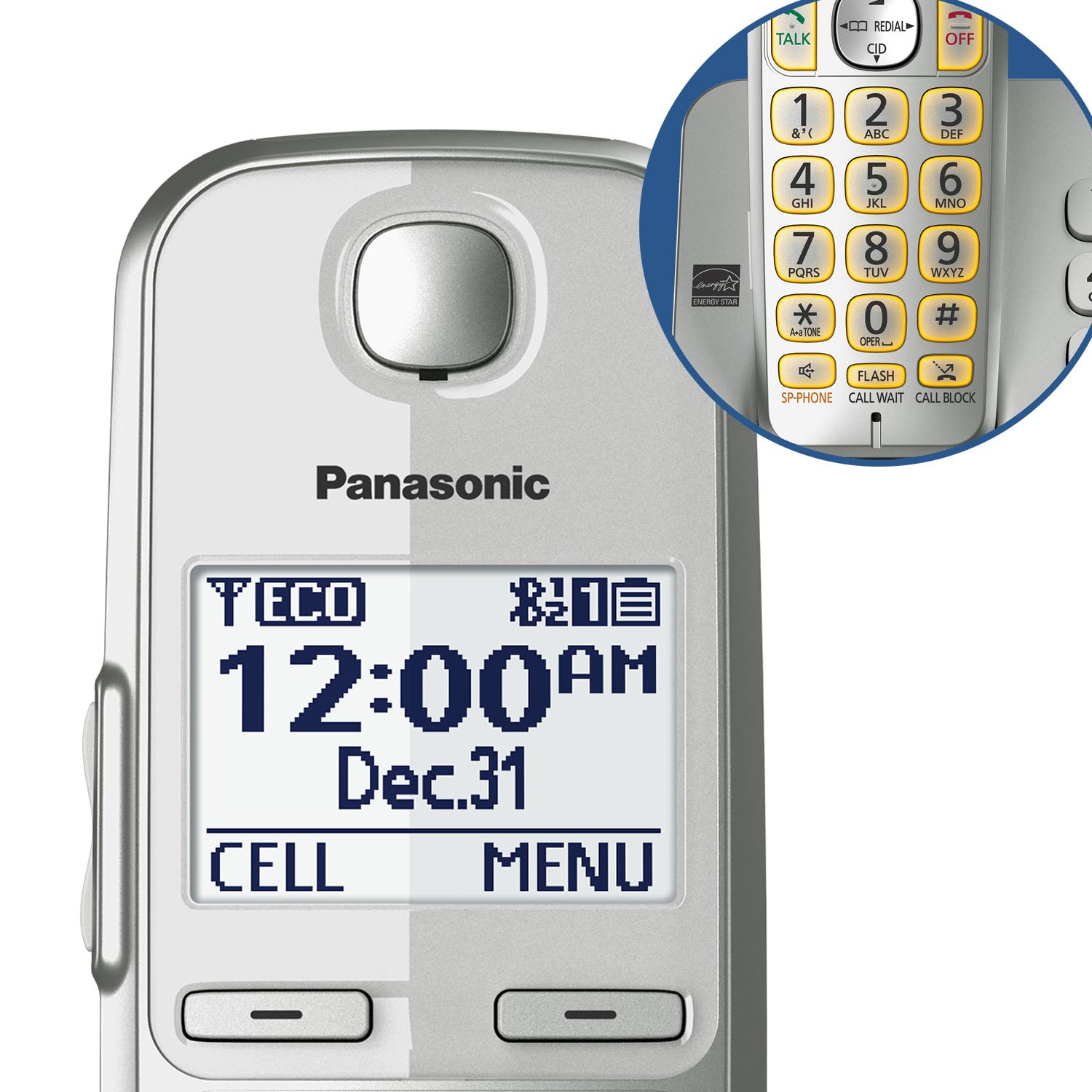 Large White Backlit Display
A large 1.8-inch high-contrast white backlit LCD and comfortable, efficiently positioned backlit numeric dial keypads and buttons in every handset make home and home office dialing and controlling other phone functions quick and convenient in brightly lit and darkened rooms.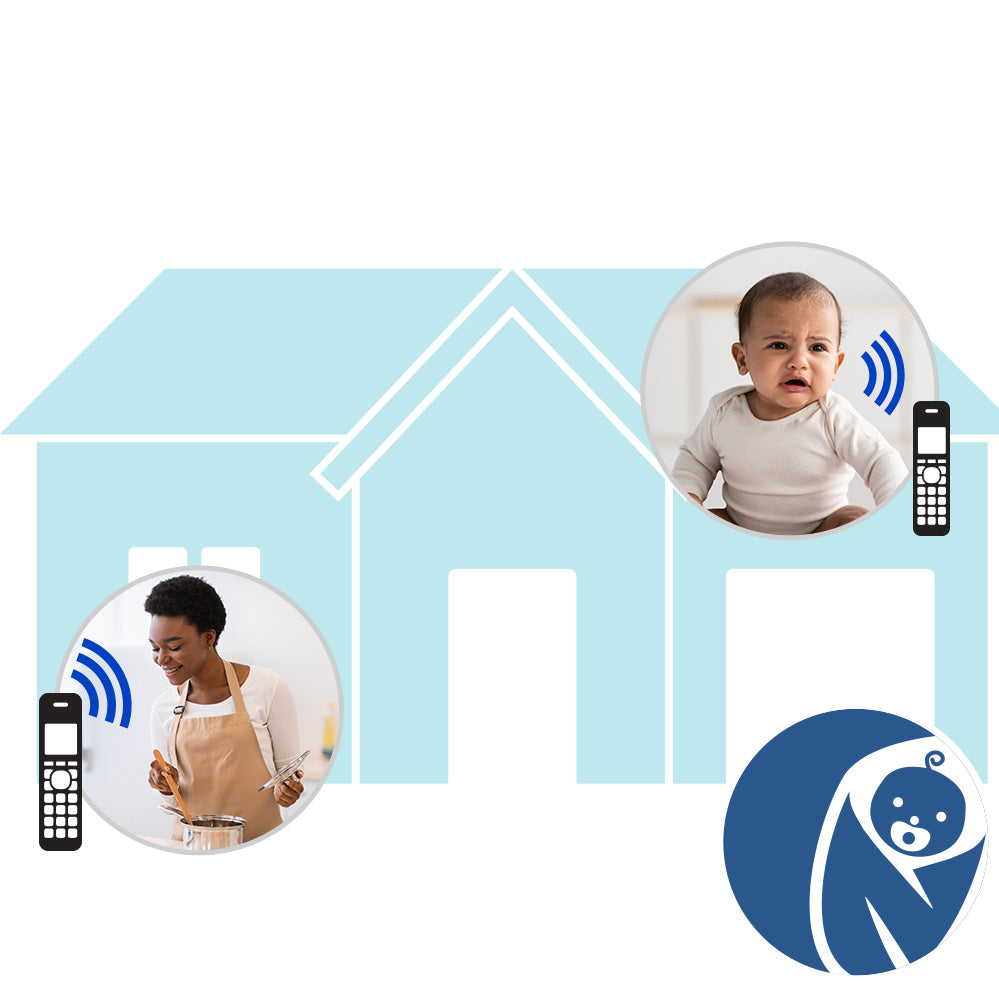 Speakerphone Doubles as a Baby Monitor
Place a cordless handset unit in baby's room to audibly monitor from different areas of the house or even while away from home! The monitored handset will automatically call the monitoring handset, base unit, or a stored phone number when it detects sound. *Additional handset required
Speakerphone Doubles as a Baby Monitor
Place a cordless handset unit in baby's room to audibly monitor from different areas of the house or even while away from home! The monitored handset will automatically call the monitoring handset, base unit, or a stored phone number when it detects sound. *Additional handset required